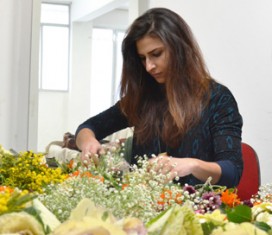 Maria Tsagkari lives and works in Athens, Greece.
She studied Conservation of Antiquities and Works of Art at the Athens Technological Institute [TEI], graduating with distinction in 2005; her graduation thesis was on the work of Alexis Akrithakis.
She worked as art restorer for the National Gallery of Athens and for private collections and in 2006 she went on to study at the Athens School of Fine Arts.
In 2007-2008 she attended the Facultad de Βellas Αrtes in Madrid on a Greek State scholarship.
She graduated from the ASFA with distinction in 2010, and continued at the School's Postgraduate programme in Visual Arts, graduating in 2012. Since 2011 she works as lecturer at the Athens School of Fine Arts.
Selected Exhibitions
2017 – STANDART 2017, Triennial of Contemporary Art in Armenia, The Mount Analogue, curated by Adelina Von Fürstenberg, Sergey Merkurov Museum, Gyumri, Armenia
2017 – The Garden sees, Concert Hall of Athens, curated by Anna Kafetsi, Athens.
2017 – Re-emergence - Suspended Spaces, Le Lait Art Center, curated by Jackie-Ruth Meyer, Albi, France.
2017 – THREAD, curated by Areti Leopoulou, Kalfayan Galleries, Athens, Greece.
2017 – On The Way, Cultuur centrum Zwaneberg, curator Willem Vermeersch, Belgium.
2017 – AQUA, Contemporary Artists and Water Issues, curated by Adelina Von Fürstenberg, Chateau de Penthes, Geneva, Switzerland.
2017 – Higher by Spinning, 33rd International Festival of Sarajevo, curated by Jessy Theo Rahman, Sarajevo.
2016 – Coup de Ville, Triennial in Belgium, organized by WARP, curated by Stef Van Bellingen, Belgium.
2016 – Part Two/The expectation, a commission by HYam association for a work at the public space in Hydra island, Greece.
2016 – Remember the present, Le Lait-Center of Contemporary Art, curated by Jackie-Ruth Meyer, Albi, France.
2016 – War Party, Royal Military Museum, Brussels.
2016 – Erotimatiko, exhibition of the four finalists of HYam award, Artcurial, Paris.
2015 - Αntallaxima, Sin, Georgiadis manor House, Curator: Panagis Koutsokostas, Lesvos Island.
2015 – London Art Fair, Art Projects, Gallery Tint, London.
2014 – Presentation of the 20 selected artists for Hyam award, (Hydra for the Mediterranean Artists), Artcurial, Paris.
2014 – A fresh, A new generation of Greek artists, National Museum of Contemporary Art, Curated by Dafni Vitali, Dafni Dragona, Tina Pandi, Athens.
2013 - 4th Biennale of Contemporary Art, Thessaloniki, Everywhere but now, Curated by Adelina Von Fürstenberg, Thessaloniki.
2013 – It seems like a flower, Gallery Tint, Thessaloniki.
2013 – International Contemporary Art Fair of Athens, invitation: Vassiliea Stylianidou for the Open Studio project.
2013 - Rooms 2013, St. George Lycabettus Hotel, Curated by Charis Kanellopoulou, Gallery Kappatos, Athens.
2013 - Subproducts, Curated by Alexandros Psychoulis, Technopolis Gazi, Athens.
2012 - Salon des Artistes Indépendants, Grand Palais de Champs-Élysées, Paris,France.
2012 - Generation of the 30's, The Aggelos & Leto Katakouzenos Foundation,Athens.
2012 – Heterodox, Stopover, 12th exhibition of contemporary art, Action Field Kodra, Curated by Nikos Mykoniatis, Thessaloniki.
2012 - 30 x 30 x 30, Contemporary Art Chiaki Kamikawa, Cyprus.
2011 - Illustrations for the novel "A song for Orpheus" by Nikos Sideris, Publications: Metaichmio, 2011.
2011 - Visual design and creation of two works for the play This Child, performed at the Foundation of the Hellenic World in the summer and at the Badminton theatre in the autumn. Director: Frosso Lytra. Head of stage design: Manolis Pantelidakis.
2011 - A-projects, TAF (the art foundation), Athens.
2010 - Tracing Istanbul, Holy Theological School of Halki & Sismanoglion Megaron General Consulate of Greece, Istanbul; Technopolis, Municipality of Athens.
2010 - Sweet summer, Municipal Historical & Folklore Museum, Aegina.
---
Awards
2014 - HYam (Hydra for artists of the Mediterranean), 1st Prize, The first  Young Mediterranean Artistic Scene Prize in partnership with the Jean-Luc Lagardere Foundation, ArtcurialParis.
2012 - 100 years since the Balkan Wars, War Museum, Athens; 1st Prize, awarded by the National Defence General Staff.
2010 - Art & the city, Citylink Attica, Athens; 2nd prize in the competition organized by Piraeus Bank.
Residencies
2016 – ETAC, Le Lait, Center of Contemporary Art, Albi, France.
2015 – WARP, Contemporary Art Platform, Belgium, within the context of Art and Architecture Triennial.